Your Guide to Velux Windows
Installing roof windows can instantly transform spaces in your home into bright, welcoming rooms that are less reliant on artificial light. While these types of windows are perfect for loft conversions, they can also be used to offer illumination within darker spaces throughout your home.
Velux windows are a type of roof window that are designed to enhance light and ventilation. In fact, "Lux" is Latin for light. Available in a range of different designs, these unique windows use cutting edge technology to combine impeccable insulation properties with greater opportunities to bathe your home in natural light.
An Energy-Efficient Lighting Solution
Once installed, Velux windows allow approximately 18% more natural daylight into a space when compared with conventional windows. This improved efficiency reduces the need for electric lights, and produces enhanced energy-savings.
Industry standards for energy efficiency are rated using "U-values". The lower a material's U-Value is, the greater its insulation value. For instance, a double-glazed window usually has a U-Value of around 2.8 W/m2, whereas Velux windows have a U-value of 1.2.
The efficiency of Velux windows can be attributed to the elegant design of the latest models, which boast a larger pane area, alongside slimmer sashes and frames.
Additionally, Velux roof windows can be installed at two different levels in a roof, standard or flush. In a flush installation, the window is 40mm deeper within the roof, offering greater energy efficiency.
Windows that Support Comfort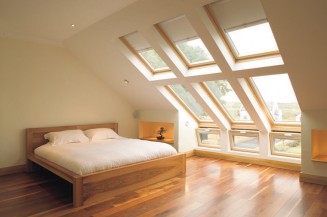 Not only do Velux windows offer more opportunities for solar gain in your home, while reducing heat loss, but they can also support your ideal comfort levels too. Some Velux windows come with a background ventilation system that can be set to allow fresh air to flow through the room while the window is shut. That means that you maintain your ideal temperature, while improving air circulation.
Thanks to new, electric Velux control products, you can even adjust your home comfort preferences from the comfort of your own arm-chair. Or, if you'd prefer, you can allow built-in Velux programmes to do the work for you. For instance, the energy balance programme automatically optimises your home's internal climate and energy efficiency based on home location, window position, and other factors.
Better Light with Velux Windows
A Velux window can completely transform any room in your home, from loft conversions to dingy corridors, making them appear refreshed and spacious. Because your reliance on artificial light will be reduced, you can banish huge energy bills, and enjoy softer, more natural illumination. This gives your home more appeal to buyers, and makes it a more relaxing and enjoyable place to spend time with your family and friends.
If that wasn't enough, research suggests that exposure to natural sunlight can enhance your mental and physical well-being. Whether you're soaking up more vitamin D for a healthy immune system, stronger bones, and fewer colds, or you're reducing the symptoms of Seasonal Affective Disorder, a Velux window could help to make you happier, and healthier, while boosting the value of your home too!