What is a Composite Door?
There are many secure and aesthetically appealing options for doors that you can install onto your home. Composite doors are rapidly emerging as one of the most popular door choices for many people, due to the advantages that they provide over other materials.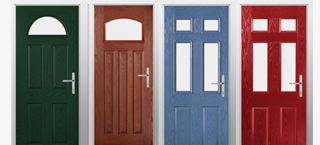 Composite doors are strong, secure, easy to maintain, long-lasting, and have excellent thermal efficiency too.
Unlike uPVC doors which are made entirely from plastic, composite doors are made using a variety of different materials that are glued and pressed together under high-pressure conditions. The materials are selected specifically for their energy-efficiency and security-based properties and can help to counteract some of the flaws in single-material doors. Any door that is made from two or three different materials is a "composite" door.
The Benefits of Composite Doors: Security
One of the primary benefits of composite doors is that they are extremely secure. While uPVC doors can be high-strength, composite doors combine glass-reinforced plastic and a strong structural frame to provide infallible protection against break-ins and intruders. When combined with laminated glass sections for decoration, composite doors still offer exceptional security, making them perfect for beauty and peace of mind.
A Wide Range of Choices
Another advantage of composite doors is that they are available in a wide range of different styles and finishes. Composite doors aren't restricted by the colour options of uPVC doors, and they can be designed with unique features that help to enhance the theme of your home or draw focus to your entryway.
Composite doors are far more flexible with design, and even the glass can be installed in a range of shapes and colours to help make your results more unique.
The Flaws that Composite Doors Overcome
Over time, external doors can suffer from a range of problems, caused by exposure to damp, debris, and seasonal heat changes. The design of composite doors is intended to take these flaws into consideration, and effectively phase them out – offering greater security and durability.
Composite doors:
Prevent the door from warping due to seasonal changes, meaning that the door doesn't stick or cause draughts. This is ideal for energy-efficiency.
The material composition of composite doors means that they can withstand a greater level of force than most other doors.
Composite doors are maintenance-free, and they require no painting or sanding to keep them looking great and working perfectly.
Composite doors often have a greater lifespan than most other door materials.