Composite doors are one of the newest styles of doors used in homes around the UK and here at iGlaze we are pleased to be able to offer doors from one of the industries market leaders in composite doors at a very competitive price.
Stronger and safer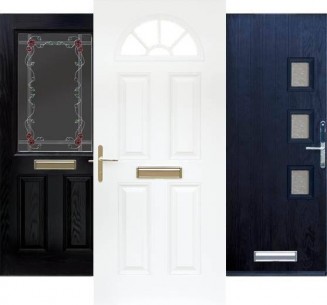 Composite doors can be ideal for a home as they give the look and feel of a wooden door but the security of a uPVC door that offers a stronger, safer and more energy efficient solution.
A composite door will not react to changes in the weather or seasons as a traditional one material door would and due to solid engineered timber core you will find that you are offered a high thermal resistance and strength compared to other door suppliers.
Our Composite doors are coated with a ABS coating so will not fade or discolour and the only maintenance work required is a wipe with a damp cloth as and when it gets dirty.
All the colours of the rainbow…. and more
With our composite doors you're not limited by colour. We have 23 standard colours, everything from the popular black composite door to the new pastel colours of lavender. Should one of those not be suitable, we can offer any other RAL colour of choice. Barbie pink!…no problem.
No more flaws
The composite door has been created by taking the common flaws of a traditional door made of one material into consideration and by using a combination of different materials. Each material is selected for its beneficial properties and the flaws of a traditional one material door have been 'designed out'.
Composite doors are made up of a selection of various materials including PVC, wood, ABS (same material as LEGO) and other similar materials. This combination of materials results in a composite door that is very strong and incredibly secure.

Want us to send you a brochure? Get in touch today
– we're always happy to help!
Call us today on: 01767 765440