Could an orangery add value to my home?
There are a variety of home improvements that can add value to a property, and an orangery is one of them. However, to maximise value, it's important to use materials that complement the design of the original property.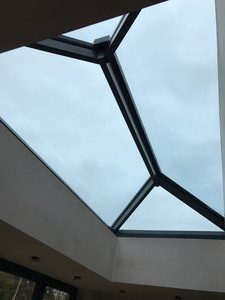 Adding value
There are three main reasons why orangeries add value to a property:
Usable living space
A standard three-bed semi-detached property can be completely transformed with an orangery, which could add 30 per cent more living space. For first-time buyers, growing families and even seasoned buyers, this additional living space is prized and because it has already been created, and as such, represents a potential saving for them in the future.
Year-round use
Orangeries are classed as property extensions. They connect to a property externally and increase usable interior living space. People use their orangeries all-year round because they are thermally efficient and bring the outdoors closer. The ability to use an orangery year-round is one of the reasons they are so appealing to prospective buyers. Simply put, people value the ability to experience the outdoors all-year round.
Style and wow-factor
Finally, one should never neglect the visual impact an orangery can have. The orangeries we build and work on are stunning – they offer panoramic views of the Sky and they can be designed with state-of-the-art, panoramic bi-fold doors. By matching the brickwork and cladding of a property, an orangery can enhance the visual appeal of a house substantially and can become the focal point of a home and a real selling point.
Materials
When considering an orangery, it's important to pay close attention to the materials that will be used, since these will affect the potential value increase of your property.
uPVC and materials of this type are now considered old fashioned, and because they are cheap, they are usually reserved for budget conservatories. Instead, you should be looking towards brick, glass and aluminium as your materials of choice to enhance property value.
For the roof, GRP is the best material. Glass-reinforced plastic is a strong, UV efficient material with outstanding clarity. It's also incredibly safe. Our GRP orangery roofs come with a 25-year guarantee which is testament to their quality. The orangery roofs we design can also have their own windows, so you can open them in the summer to let fresh air in safely.
To find out more about orangeries, call us today on 01767 765 440 or contact us here.