Increase the Value of your Home with a Skyroom
Known by some as "glazed extensions", skyrooms are a form of luxury extension that can be added to a home as a beautiful and functional additional space. These unique products are similar to conservatories and orangeries and help to deliver an exceptional "wow" factor to your home, whether you're simply looking for a little extra space, or you want to maximise the value of your property.
Known for their understated, minimalist appearance, skyrooms don't use beams, supports, or bolt-on parts that would otherwise obscure your view. Instead, they offer a contemporary solution for homeowners who want to enhance the potential of their home.
Appeal to Buyers with More Space
One of the most obvious ways that a skyroom can increase the value of your home, is by adding additional space to your property. When carefully designed, these extensions can act as entirely separate functional room, for residents to enjoy at their leisure. skyrooms can be transformed into dining spaces, studies, or television and play rooms for the kids.
Just like other extension options, skyrooms are ideal for expanding your home and reducing the appearance of clutter around the home. What's more, their classic "orangery" appearance instantly transforms your property into one of luxury and traditional appeal.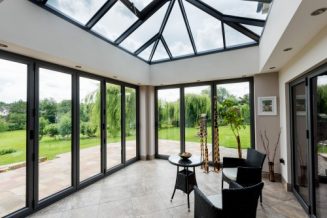 Improve Aesthetic Appearance
No matter how you choose to use your skyroom, building this extension onto your home will help to improve its aesthetic value. Often, skyrooms can help smaller properties to appear larger, not only by giving them more square-feet to use for storage and decoration but also by allowing more light into the home.
skyrooms are designed to be sleek and sophisticated, and their versatile designs can extend all the way from modern, eclectic home additions, to classic period developments. In other words, you can create the skyroom that best supports the natural style of your property.
Skyrooms: A Popular Extension Choice
Over the years, skyrooms have emerged as a more popular choice than standard orangeries and conservatives, thanks to their unique blend of luxurious style, and affordability. As both an economical solution for extending your home, and a great way to add contemporary appeal to your property, skyrooms help to attract buyers, enhance the value of your home, and offer you greater comfort for the family too.
skyrooms are created for use 24-hours a day, in all seasons, with a fantastic thermal efficiency, and stunning outdoor views that help to bring the power of nature indoors.