Can aluminium windows be painted?
Aluminium windows can be painted successfully, and the finish you apply to them will last for many years so long as the surface is prepared beforehand.
Many people choose aluminium windows and doors because they have a modern and desirable finish straight from the factory. However, if you would like to give your aluminium windows a more traditional painted finish, then you can.
Tips for Painting Aluminium Windows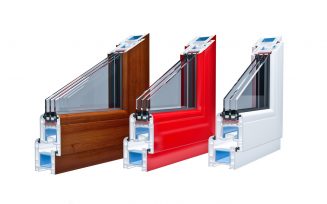 Aluminium windows must be prepared properly for paint to stick to them. Here are our top tips for painting aluminium windows to get you stated:
Cleaning
The first step in this process is cleaning. To clean your aluminium windows, you will need a microfibre cloth and 90 per cent isopropyl alcohol. Isopropyl alcohol will remove surface contaminants from the window frames and leave them completely clean. Soak a section of your cloth with isopropyl alcohol, and rub it into the frame to remove dirt and grime.
Top tip: Unlike water and soap, isopropyl alcohol evaporates. This means that your windows will dry in seconds, giving you more time to get painting. 
Preparation
Use masking tape to seal off and protect the areas around the window from paint, and use newspaper to cover the glass itself. We recommend using 3M Scotch Blue Painters Tape for masking, because it sticks well and pulls away easily with a tug.
Top tip: No matter how careful you are, you might get paint in an area where it isn't wanted. To make clean-up easier, have a bottle of mineral turpentine (White Spirit) to hand.
Primer
Once you have cleaned your window frames, it's time to get painting. You will start this process with a metal etching primer. Primer is an undercoat that is necessary because without it, your paint won't stick to the window frames for very long.
Top tip: Primer should be applied to the frames with a paint brush. If you want to have a smooth surface finish, however, you can use a spray paint primer.
Painting
You will need an acrylic latex paint for aluminium windows. This type of paint won't flake over time or bubble with temperature changes, so long as a primer is used. With regards to application, you have two choices: 1) Purchase a tin of paint and use a paint brush to apply it, or 2) Use spray paint. A brush is the preferred method because it's more controllable, but spray paint leaves a smoother finish without any added texture.
Top tip: Whether you use a spray paint or a brush, you should wait at least an hour between coats, so that proper layering can take place.